Text composed by Mag.a Eva Weiler, photos by Mag.a Ingrid Hubner-Ebner, Veronika Prömer, Mag.a Eva Weiler
Little do we know about the origins of Art. We don't know when and where people started making the first visual representations, or even why they started doing so in the first place. Was it only a way to kill time?
Did it serve a higher purpose or aesthetic reasons? Was it a way of communication?
Over the last few decades new findings shattered the way we thought about the origins of art: Artworks we 've known for a long time were redated due to scientific progress, new pieces of art were found and new ways of examination were created. But still, prehistoric art is a terra incognita within the research field of Fine Arts.
So what would be the best way to convey artworks that span over an extensive timeframe – prehistoric art was made for a longer time than all of the other periods of art combined – and which content often doesn't become accessible for us nowadays? Changing perspective from the beholder to the creator!
To do so all students boarded the Bus on the 25th of September 2018 to get to a remote place somewhere in the woods outside the city of Salzburg.
We met at the "Plattenbruch" in Adnet with our two aides for the day Veronika and Ingrid and also with Dr. Klemens Deisl, the owner of the quarry and manager of "Marmorwerke Kiefer". Dr. Deisl kindly enabled us to do our rock art on the marble blocks waiting for further processing in one of his quarries. We are very thankful for this opportunity!
After a general introduction our group split up into two: the one half was starting with their artworks, the second was to visit the sculptor "Van Gugg" in his workshop at the quarry.
The artist allowed us to watch his recent work in progress and after a little chat about his life and work he even "had a heart " for some of our students who were more than happy to take home this very special souvenir. After some time the groups changed, so that everybody could visit "Van Gugg" in his workshop and do some rock art her-/himself.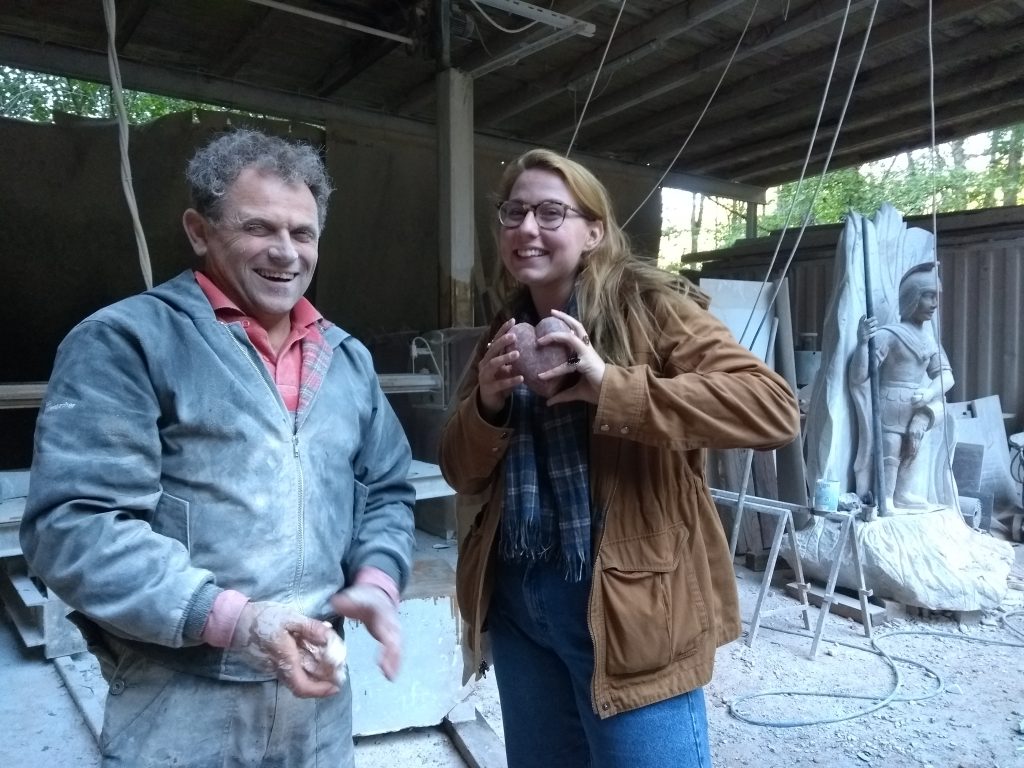 After all, eleven groups of students were painting and drawing all over the quarry. They used mud, coal, gravel, leaves, sticks and everything they could find to add some color and structure to the rock surface. Joyfully they fulfilled their main task – to visualize a self-chosen verbal concept – and ended with guessing the concepts the other groups depicted. To add a little excitement, the group whose concept was to be identified right by the most people would win a chocolaty treat. The winner was the striking "Sadness " by Ruby, Natalie S., Chloe and Camryn which was identified right by every other student!
Dirty, exhausted, but obviously happy about the "full-cavemen-experience" the group headed back to Salzburg, knowing how hard prehistoric women and men had to work creating their artworks due to this first-hand experience in the marble quarry in Adnet.